On November 26, 1963, Italian soprano Amelita Galli-Curci (1882-1963) died of emphysema at the age of 81. The great soprano, known for her coloratura and command of the bel canto repertoire was also one of the first divas of the recording industry. Her contribution to the history of the art form is only complimented by our ability to listen to her various Gramophone recordings.
Amelita Galli-Curci studied piano at the Conservatory of Milan and taught herself how to sing, after the Pietro Mascagni, composer of "Cavalleria Rusticana," heard her and encouraged her to study towards a career as an opera singer. Born in Milan, of Italian and Spanish descent, her father was a banker, and could afford her the advantage of learning about the art-form and hearing world class opera singers live at La Scala from a very young age.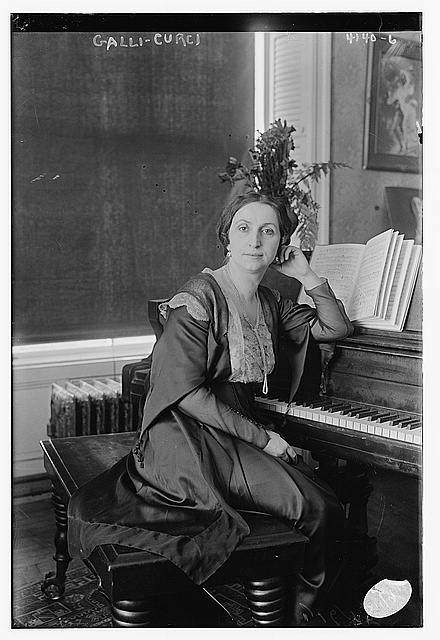 "'I learned about the operas,' she said, 'from going to La Scala Theatre. I heard them all from the time I was 6 years old.' As for acting, ten lessons from Valvassura, whom she called a rival of Bernhardt in 'Tosca,' sufficed. She did not, like too many young singers, pin faith to instructors nor to tricks of song. 'The coloratura is not enough by itself,' she exclaimed. 'The same 'cikeraki, cikeraki' is a little annoying. The public grows tired. A lyric style is important first.' She studies locked in her room, listening to her records on American talking machines." New York Times, January 27, 1918. 

She made her debut at the Constanzi Theatre in Rome as Gilda in Rigoletto in 1910, and made her New York debut in 1918 singing the title role of "Dinorah" at the Lexington Theatre. 
"Her debut here was a veritable triumph; she was cheered for twenty minutes after the big scene in the second act, and from that time hers has been an operatic fame almost the equal of Caruso's" The New York Times, February 8, 1921.


Galli-Curci's emphasis on the lyric quality of the voice and the elimination of frivolity or musical "tricks" as she called them, was one of the reasons she became such a sensation. She approached this repertoire with intelligence and substance, giving emotional weight to the roles and music while maintaining a celestial, delicate vocal quality. 

According to the New York Times, "her singing is of lyrical quality, however, a 'voice that floats,' with singular purity of tone, and an even range of about three octaves. She speaks and sings in seven languages." New York Times, February 8, 1921.
"She has an uncanny intelligence; and because of this you know that she does not use the great gift of her voice merely for the display of its own possibilities, but as a means to the higher ends dictated by her artistic consciousness." New York Times, February 10, 1918.


 


With the public and critical interest in the performance style of Galli-Curci, came a change in the way bel canto operas were perceived. There had been a decline in interest, in Chicago and New York City, of operas featuring coloratura singing that became rekindled with the debut of Galli-Curci. The same phenomenon of a singer bringing depth and substance to bel canto roles, and subsequently sparking the public's interest in the style of composition, can also be attributed to such sopranos as Joan Sutherland and more evidently, Maria Callas. Herbert Witherspoon, retired operatic bass, singing teacher, and eventual general manager of The Metropolitan Opera, explains this cycle quite eloquently for the New York Times:
"In recent years the public has been starved of this type of singing...The history of music has moved in cycles; the musical-dramatic ideals of the early Florentines gave place to operas in which the thought and dramatic quality was next to nothing, and the vocal acrobatics of the prima donna took on almost the whole importance. Then, in turn, came another reaction, and in the realistic operas of recent years we have seen almost the complete disappearance of the sort of music in which Mme. Galli-Curci has displayed such distinguished ability. This imposed quite needless and unreasonable limitations upon the art of song. There was nothing the matter with coloratura singing in itself; the objections to it were objections to the quality of many coloratura roles, the type of opera in which they were found, and the needless degredation of all the other factors that should blend in their composition-the bad results that would be found in any art if it were shut off from a considerable portion of the field which it should cover. They can be found in the general decline of our singers in the last twenty years…Now comes a singer like Galli-Curci and gives the public something it wants and has unconsciously longed for. IT is impossible that her example should not bring results. More coloratura sopranos will be developed, as it is evident that the public taste still likes them; and this means, od course, that the old operas are going to be revived with much greater frequency. They will be restudied, cut no doubt, altered here and there; but they will be revived, and with them will grow up a school of singers who can sing them." New York Times, February 10, 1918.
Amelita Galli-Curci singing "Si, Carina" from Meyerbeer's Dinorah. Victor recording, June 17, 1924:
Here is a short radio interview with Galli-Curci, broadcast on KFC radio in November, 1963, where she discusses the early recording process, vocal technique, Joan Sutherland, her career, and gives some solid advice for young singers: