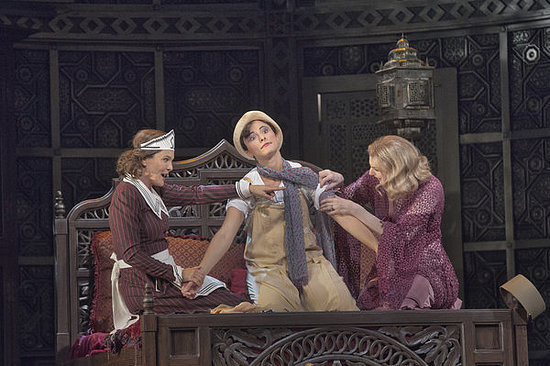 Marlis Petersen (Susanna), Isabel Leonard (Cherubino), Amanda Majeski (Countess) 
Photo: Ken Howard/Met Opera
Spending their way out of a recession, blaming the artists, blaming the management, blaming the public then rustling up the public, rounding up union members, scare tactics. This summer played out like an opera at The Met, full of twists, turns, and potential tragedies, but thankfully things have settled down and the season will begin, as originally scheduled, with Le Nozze di Figaro, on September 22. It will be a black tie gala that will hopefully serve to rebuild the relationship between the public, the management and the artists, all in the name of artistic excellence. You can read all about the results of the contract negotiations, and about the new season here. 
Ildar Abdrazakov (Figaro), Marlis Petersen (Susanna) 
Photo: Ken Howard/Met Opera